No More Manual Alert Triage
It's not only expensive, it results in slow, poor quality and inconsistent investigations.

Fast, Affordable Alert Triage — Done Right
High quality investigation, triage and response for every alert within 15 minutes.
Every single alert automatically enriched, investigated and triaged by our virtual analyst. Our virtual analyst is the first responder, supervised and supported by our human security experts.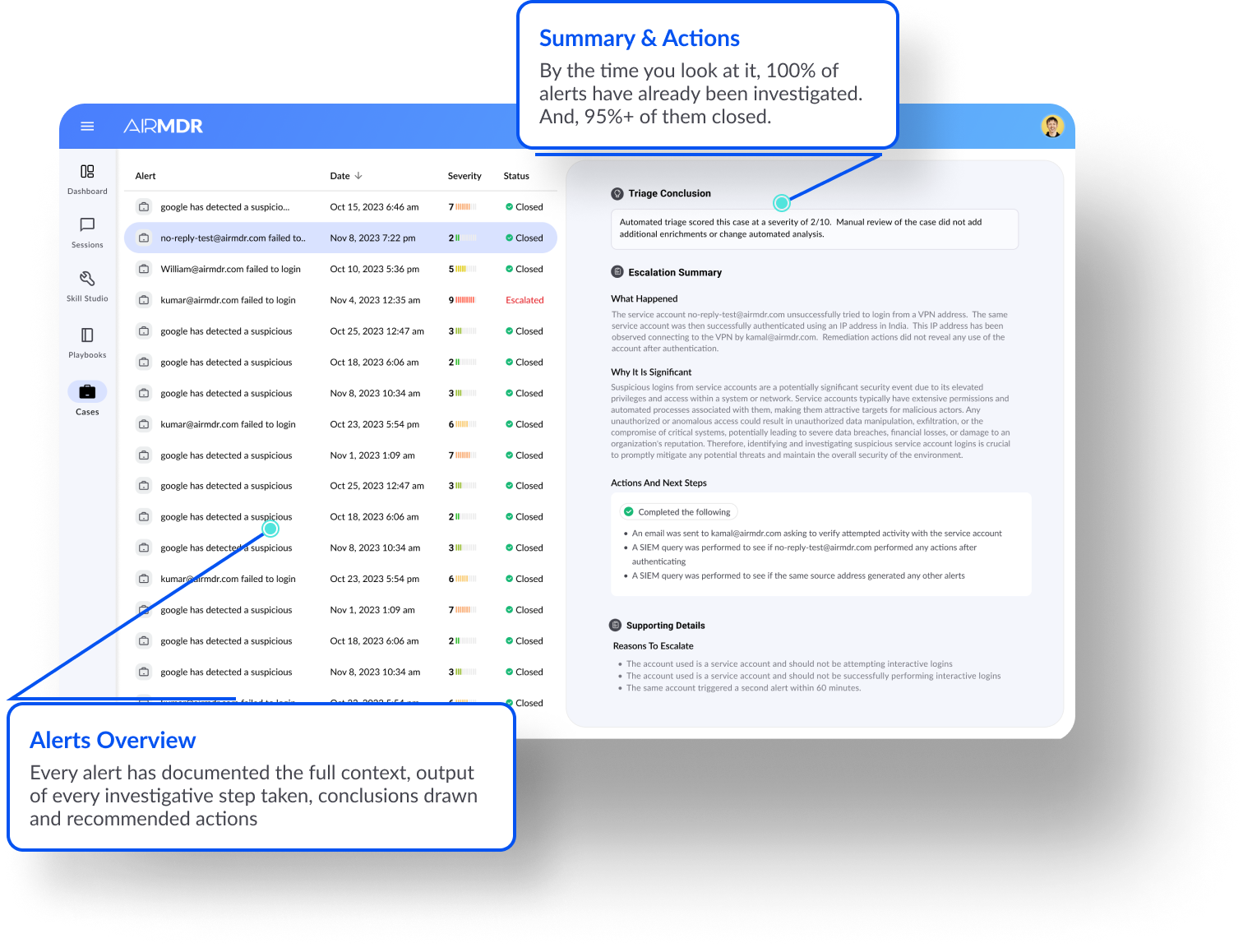 Transparent Metrics That Matter
You can't improve what you can't measure. Get visibility into the metrics that matter.
And see significant improvements in MTTI and MTTR in 30 days — or your money back.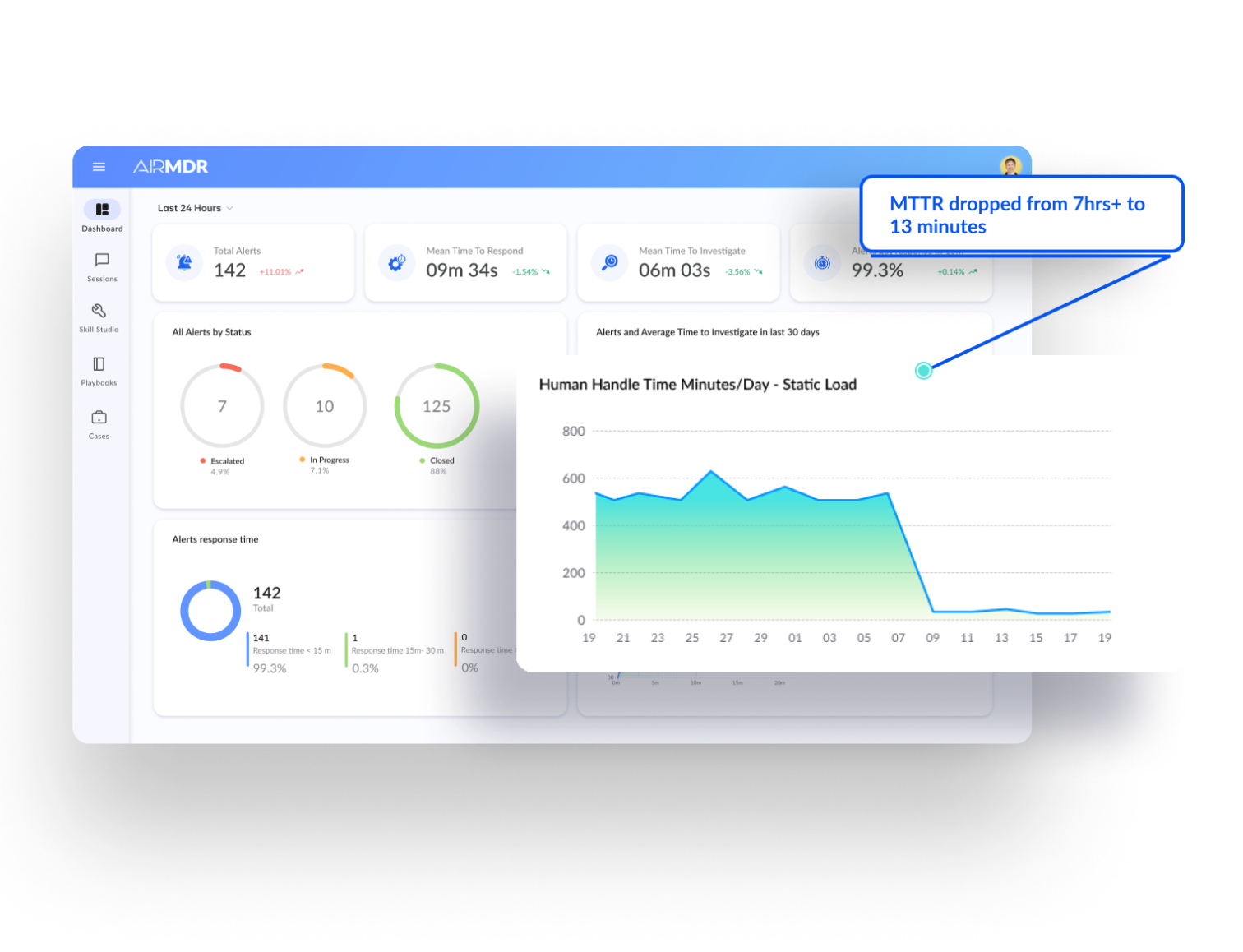 Meet Our Virtual Analyst
Our AI powered virtual security analyst is taught and supported by top-notch security professionals. Ready to learn and adapt to your specific needs, our virtual analyst uses natural language to perform tasks the same way a highly skilled analyst would. It can help enrich events and runs processes, recognize and triage high risk alerts, suggest and execute plans of action or remediation.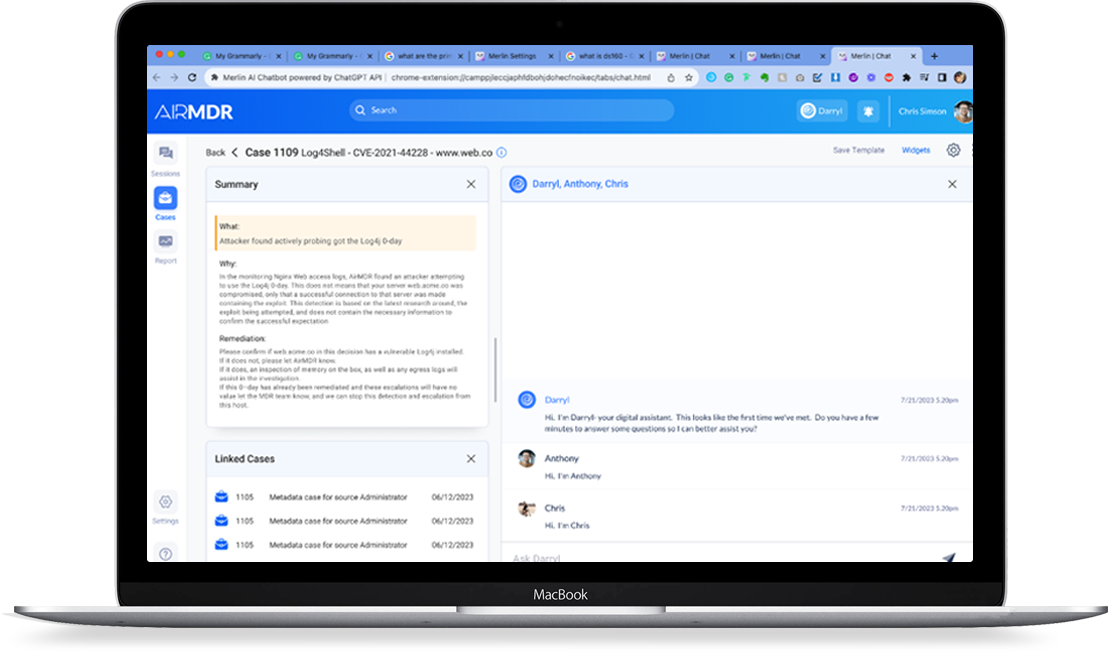 How AirMDR's

Service Works

Connect
Provision access to alerting systems or other data needed for rich investigation and triage.

Investigate
The system investigates each alert in detail within 15 min based on suggested workflows.

Report
Get full details of each investigation including descriptions, correlations and response actions advisories.

Respond
24/7 virtual analyst access. Ask questions, suggest additional investigation steps, even initiate responses with pre-built one-click actions.
Why AirMDR
Built for experts by experts who understand your needs.

Have API? Will integrate at no additional cost.

Your time is too precious to be training alerts by hand. That's why we help fully automate them.

Automation based on the intelligence of experts with years of hands-on experience.

Our virtual analyst can answer 90% of your questions within minutes freeing up time to focus on more critical work.

Our real human experts are available for support as a last line of defense if needs go beyond the capabilities of our virtual analyst.

Leveraging AirMDR with our virtual analyst is 5-10x more efficient and cost effective than traditional MDR models or scaling an in-house team of analysts.
Built By
Experts
Battle tested Security experts at the touch of a button. The AirMDR founding team comes with over
45 years of first-hand cybersecurity experience specializing in SIEM, incident detection, response and
security automation.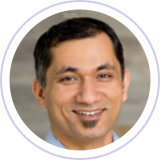 Kumar Saurabh
CEO

Kumar leads the AirMDR team with over 20 years of experience in the enterprise security and log management space. Previous roles include ArcSight, Sumo Logic (Cloud SIEM) and LogicHub (SOAR/MDR).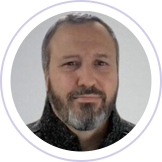 Anthony Morris
Director of Security Engineering

With over 25 years dedicated cybersecurity experience, Anthony specializes in SIEM, incident detection, incident response and security automation.
William Gale
Principal Scientist

Prior to joining AirMDR, William spent over 5 years developing and deploying Neural Language Models (LLMs) at Microsoft.